10 Most Promising EdTech Startups ­ - 2022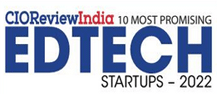 Education sector is undergoing vast change; EdTech industry in India is gaining huge traction recently. In 2019 India's online Education market was estimated to be $735 million and is expected to be worth more than $3.5 billion by 2022. India boasts to be the second largest e-Learning market after US. India has over 9000 Education Technology startups, out of these 750 firms have raised a total of $8.5 billion to date. Out of India's 28.25 percent population, about 1.3 billion population fall under the age group of 0-14 years, thus, it is the country where highest number of children is going to school.
The wide internet penetration and low cost data have made internet a source of study for kids. There were many startups using this idea to develop an EdTech platform. The idea became popular and gained a huge success in a very short time. With the pandemic and lockdown its popularity has grown. Today, the EdTech courses are not only offered to K12, it is also available at university and higher education level and is well accepted by companies. This has changed the face of Indian Education. The technologies like AI, Augmented Reality and Virtual Reality have entirely changed the Educational System. The market is headed for eight to ten times growth in the next five years. The convenience of learning from home is another reason for the popularity of EdTech. Most of the students in India go for extra tuition apart from the class in schools. With EdTech they can enroll to best tuitions or coaching from home itself. A lot of startups are mushrooming in this sector today.
In this issue of CIOReviewIndia, we bring you a list of `10 Most Promising EdTech Startups ­ - 2022'. These platforms were selected by comprehensive examination by industry CEOs, VCs, CXOs, and our Editorial Board. We truly expect these institutions to meet your needs as we recognize their valuable contribution to the ever expanding industry through their reliable services.
We present to you CIOTechOutlook 10 Most Promising EdTech Startups ­ - 2022.
10 Most Promising EdTech Startups ­ - 2022
| | |
| --- | --- |
| Adhyaapana | Engineered to perform as an easy-to-use coding tool built to help children to create websites, apps and games with Adhyaapana's expert coding teachers |
| Byju's | Started as a coaching class, Byju's has grown into one of the top EdTech companies in the world |
| Classplus | This is an EdTech company that allows tutors to manage their own classroom through an app |
| Librari | The world's first micro-learning video app platform with more than 30 plus categories, providing an interesting and intutive way of learning |
| Oda Class | An innovative ed-tech organization that offers premium quality education by Star Teachers and has advanced technology to support and guide all the students |
| Pesto | Pesto Tech offers high quality software engineering training course that prepares Indian students for high paying remote jobs in India and abroad |
| Unacademy | One of the India's largest learning platform who prepares students for competitive examinations like UPSC, IIT JEE, NEET-UG, Bank exams, GATE and ESE |
| Upgrad | Upgrad helps students to get online degrees from the top universities across the world |
| Vedantu | It is an online learning system that helps the students to understand the concepts clearly by interactive live sessions, doubt clearing sessions, and customized teaching pattern |
| Whitehat education | It helps kids to learn logic, structure, and algorithm thinking to create websites and apps |