10 Most Promising Workplace Transformation Companies - 2022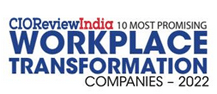 Business in this fast moving world requires highly skilled people for work force. The concept of thriving in business not only means to develop a knowledgeable, strategically adept, cognitively flexible and proficient workforce but also making the workplace appropriate location with access to latest technology. So businesses are not looking for ideas from a single head, they want flow of ideas from all corners of the company. Today, innovations have become the game changer. Companies are not only expecting innovation in products, but also innovation in ideas and new strategies that have become ever important in marketing, PR, brand building and sales of a company and employees are also striking harder to keep their skills sharp through self learning. Hence both workforce and workplace have become equally important in doing business.
Employees are today able to command on AI, analyze data, invent and apply solutions on the fly, and slide effortlessly into new roles as needed. But poor workplace & atmosphere as well as lack of access to technology are preventing them from using their full potential for the growth of the company. Businesses should update with latest technology. New technologies are redefining products and services, blurring industry boundaries, and creating entirely new sets of non-traditional competitors. Present day IT companies focus on hiring the skills in the areas like AI, Machine Learning, Data Engineering and Mobile Technologies, but only 3-5 percent Engineers acquires all the above skills in this areas. Henceforth, it is causing high skill crisis in IT and ITeS industry. There fore there is a dire need for workplace transformation in India.
In this issue of CIOReviewIndia, we bring you a list of `10 Most Promising Workplace Transformation Companies ­ - 2022'. These platforms were selected by comprehensive examination by industry CEOs, VCs, CXOs and our Editorial Team. We truly expect these institutions to meet your needs as we recognize their valuable contribution to the ever expanding industry through their reliable services.
We present to you CIOTechOutlook 10 Most Promising Workplace Transformation Companies - 2022.
10 Most Promising Workplace Transformation Companies - 2022
| Company Name | Company Description |
| --- | --- |
| Poly India and SAARC | They combine audio expertise and powerful video and conferencing capabilities to overcome the distractions and complexities that make communication in and out of the workplace challenging |
| | |
| --- | --- |
| Ezofis | The company is known for enhancing customer experience through its simplicity and ease of use features for powerful automation of business applications |
| Hakuna Matata Solutions | Company offers full spectrum of technology solutions and services for enterprises across different industry verticals all over the globe |
| HCL Technologies | Enables enterprises to build a hyper-personalized, adaptive and resilient workplace delivering a seamless experience at the workplace |
| IBM | Improving business and human condition through application of of intelligence, reason and science |
| Info Vision Labs | They offer services like enterprise mobility, legacy modernization, cloud migration, predictive analytics, IoT, AI, and ML |
| Mindtree | A global technology consulting and services company which is helping enterprises to achieve competitive advantage through latest technology |
| Rapid Acceleration Partners | A pioneer in AI driven solutions that transforms business application by improving operational efficiency |
| Soroco | Helping the clients to detect earlier the right opportunities for automation |
| UBX Cloud | Global service providers who bilieves in personalized service and solving challenges of business through technology |