10 Most Promising e-Signature Solution Providers - 2021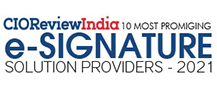 There is no doubt that creativity is the most important human resource of all. Without creativity, there would be no progress and we would be forever repeating the same patterns, but the difficulty lays not so much in developing new ideas as in escaping from old ones. Hence, a few companies have come forward with a belief of stimulating their new technique and getting connected to other minds. It is important to break out of expected patterns in order to look at things in a different way. The secret of new and authentic ideas knows how to hide and preserve your sources by a matter of unlocking and thinking out of the box. Thus, one can replace fear with curiosity via connecting the new dots in new ways. It is not about ideas, in fact it is about making the ideas happen. One such new innovation is an e-Signature or Electronic Signature, it is a legal way to get consent or approval on electronic documents or forms. It can replace a handwritten signature in virtually any process.
So, anyone new to this area can be easily confused about what constitutes an Electronic Signature. Electronic Signatures are a legal concept distinct from Digital Signature, a cryptographic mechanism often used to implement Electronic Signatures. An electronic signature can be as simple as a name entered on an electronic document. Digital Signatures are increasingly used in e-Commerce and in regulatory filings to implement Electronic Signatures in a cryptographically protected way. An Electronic Signature is intended to provide a secure and accurate identification method for the signatory to provide a seamless transaction. Electronic Signatures may be created with increasing levels of security, with each having its own set of requirements and means of creation on various levels that prove the validity of the signature.
In this issue of CIOReviewIndia, we present to you a list of `10 Most Promising e-Signature Solution Providers - 2021'. Crafted by a team of excellent CEOs, VCs, industry veterans and the CIOReviewIndia editorial board, this archive recognizes companies who have made their mark in bringing the beneficial changes among people pertaining to security and authenticity of e-signature solutions to provide a stronger probative value of advancing oneself about Electronic Signature.
We present to you CIOTechOutlook 10 Most Promising e-Signature Solution Providers - 2021.
10 Most Promising e-Signature Solution Providers - 2021
| Company Name | Company Description |
| --- | --- |
| Sensys Technologies | Offers licensed and state-of-the-art solutions and applications enabling customers to derive maximum value and benefit |
| | |
| --- | --- |
| ACE Technology | A solution provider for PDF FileSigner, Customized Platform for Digital Signature, Digital Signature Certificate, E - Tendering, and Multifactor Authentication services |
| AMI VISION | Offers E-Tendering, E-Procurement, Digital Signature Certificate, Web Designing and Software Development solutions |
| Antares Systems | Offers electronic tendering & auctioning solutions which are efficient, fool-proof procurement system products |
| DeskNine | Provides solutions for Aadhaar based eSign, eStamp paper, eMandate, Enterprise Documentation Workflow, egras, echallan, Digital Stamp, eStamp, eNACH, API based eSign and more |
| E-Lock | Providing solutions of desktop digital signature, online form signing, web-based signing and server-side signing |
| eMudhra | A Certifying Authority licensed by Controller of Certifying Authorities, under Government of India catering to all kinds of subscribers who use Digital Certificates for Income Tax, MCA (ROC),... |
| e-Solutions | Facilitating all type of Digital Signature Certificates, USB Tokens, Document Signer Certificate, Code Signing Certificate, e-Sign and PKI Solutions |
| SignDesk | Offering solutions of eSign workflow, video KYC onboarding, digital stamping, digital signatures, and more |
| Truecopy Credentials | Provider of Electronic credentials, Credentials Verification, Digital Document Security, and Digital Signatures |