Top 10 Low-Code Solutions Providers - 2021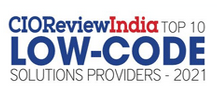 The global low-code development platform market is predicted to generate revenue of $187.0 billion by 2030, rising from $10.3 billion in 2019, and is expected to advance at a compound annual growth rate (CAGR) of, 31.1 percent during the forecast period of 2020-2030. This fast pace growth of the low code market is ascribed to rapid increase in the need for digitization, a strong ecosystem developed for Agile and DevOps practices, elimination of gaps in the required IT skills, and increasing need for rapid customization and scalability. Recently the market has been positively influenced and boosted by the outbreak of covid-19 pandemic. An Array of applications was developed to engage the customers and clients over the internet in order to overcome the restrictions due to pandemic. In addition to that many applications were developed for various governments for spreading awareness and help among people.
Difficulty in hiring talented developers, enormous time taken for the development of applications driven by complexity, which results in a prolonged launch cycle are the factors driving companies to opt for low code over conventional innovations. Low code will account for more than 65 percent of application development activity by 2024. As they can be integrated easily to large business processes; it is now enabling non-programmers, or anybody, to develop business workflow applications.
Along with lots of pros, low code also has some cons that are inevitable. Even though it is faster and easier and helps for an easy product launch in less time, it lacks options and functions. It could create integration issues and privacy & security issues.
Understanding the need of the hour and studying key progressions and developments in Healthcare consulting services sector, team CIOReviewIndia has come-up with a list of 'Top 10 Low-Code Solutions Providers - 2021' who have proved their proficiency in the sector with a deep knowledge in technology. The following list is prepared being closely scrutinized by a panel of judges consisting of CEOs, CIOs, CXO, analysts, and our editorial board. We believe that these solution providers will help in transforming business processes through their significant expertise and knowledge.
We present to you CIOTechOutlook Top 10 Low-Code Solutions Providers - 2021.
Top 10 Low-Code Solutions Providers - 2021
| Company Name | Company Description |
| --- | --- |
| WEM APAC | Provider of excellent digital transformation no code enterprise application platform augmented through Hyper Automation Capabilities, Additional Mobile App Development Capabilities & Design Service |
| Company Name | Company Description |
| --- | --- |
| Senpiper Technologies | Offers its low-code development platform that helps users in building world-class software applications at an incredibly low turnaround time |
| | |
| --- | --- |
| AtoZ Infoway | Expertized in offering solutions which include Android Application Development, iOS Application Development, Mobile Development, 2D/3D Animation Services, ASP.Net Development, .Net MVC Development,... |
| DhiWise | Facilitating information technology, mobile app development, automation, and IT tools solutions |
| Grid | Providing integrated no-code data and operations management platform for Data Collection, Data Analytics, Data Visulaization, Dashboarding Solutions, Data Cleaning, Monitoring Systems, Reporting,... |
| OmnePresent Technologies | Delivers UI UX, Rapid Application Development, Low code experts, Hyper Automation, Digital Transformation, Business Intelligence, Business Intelligence, Business Process Automation and more solutions |
| Quickwork | Offers worldclass solutions for Automation, APIs, Artificial Intellligence, Integration, Workflow, Chatbots, User Journeys, Customer Experience, and iPaaS |
| Quixy | A digital transformation platform which is a cloud-based and user-friendly for integrated cloud database, a visual application builder, enterprise-grade security, regulatory compliance and scalable... |
| Ranosys | Renowned for providing solutions for Healthcare IT Solutions, eLearning and Education Solutions, CRM Solutions, iPhone Apps Development, Android Development and more |
| SmartPlatform.ai | A company that specializes in product development and business process automation offering customized solutions as per the client's requirements using a full-stack low code technology platform |